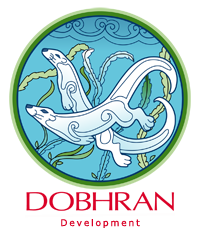 Dobhran Development is an Internet Marketing and full scale domain development company located in East Tennessee.  I had the pleasure of hanging out with Charlotte Gilbert, founder of Dobhran Development, again this year on DNCruise. Coming out of the cruise I was really impressed with the Dobhran Development's vision and product and agreed to help promote Charlotte's company here on NameTalent.com.
Charlotte is well established in the domain community through her close working relationships with major parking and development companies. She also managed the large InnovationHQ portfolio for five years where she focused on client side support in areas such as PPC management, domain development, affiliate monetization, design and sales negotiations.
I can't yet tell you from a personal point of view how great Dobhran's work is but by looking at the DobhranDevelopment.com portfolio and spending a lot of time talking with Charlie about her developments, I am sure folks looking for domain development or website consulting will be in good hands with Dobhran Development.
I was curious where the name Dobhran Development came about, so I asked Charlotte if she could give us some insight:
Dobhran is the Celtic sign for Otter which is my Irish birth animal.  I am from a deep Scots Irish heritage and Irish traditional beliefs are woven deeply throughout our family.
Dobhran Development is focused on getting clients' websites to produce more revenue by implementing a wide variety of marketing and development tactics.  Some of the services offered include search engine optimization (SEO), content management systems (WordPress, Joomla and Drupal), link building, original content, affiliate strategies and agreements, high value (marquee) domain development, domain monetization and graphic design.
Ultimately, Dobhran Development strives to implement strategies to increase site sales and traffic, analyze web traffic/usage, refine portal based results and create strategies that convert audience interest into action increasing your profits and attracting more highly-targeted traffic.
Some Additional services provided
Landing pages
Social media – FB, Twitter, Press releases, etc
Domain Portfolio Management
Logo Creation
Lead Gen Management
Custom audio/video solutions for website content syndication implementation
Custom copywriting from authoritative sources
Application consultations
Website Development instruction classes
Live chat help
Website Samples
Winterfest.com
InterviewQuestions.com
ChiliFest.com
DobhranDevelopment.com provides custom website development solution packages for every economic standpoint, so there is no reason to let your domain sit on that parked page making ten cents a click!  In fact, according to the Dobhran website there are design/development specials starting from $300, right now.
Connect with Dobhran Development:
Web: www.DobhranDevelopment.com
Phone: (678) 242-WEB1 (9321)
E-mail: [email protected]
Skype: DobhranDevelopment
LinkedIn