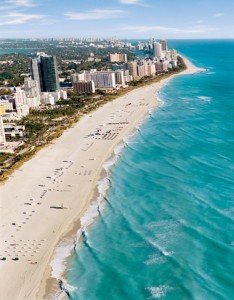 By: Mike Awada. With the one year anniversary of my first domain purchase last week, it's only fitting that I'd make it down to South Florida for my first ever domainer meetup.
Before getting to the March Madness meet-up, I had the privilege of meeting up with always impressive Abdu Tarabichi. Abdu and I took a thirty minute drive up I-95 to the Domain Holdings HQ and got the meet the staff. After illegally parking in our 2010 Altima rental, we made our way into the office located in the heart of the beautiful city of Delray Beach.
CEO Jason Boshoff greeted us and introduced us to "The Pit", where all of their operational magic goes down. It was a state of the art arena built for blue sky sessions. It immediately made me want to host a fantasy football draft there. Boshoff noted that it would be perfect for a 12 team league.
Senior Vice President Ryan Colby was incredible, sharing ideas and insight as if we had been friends for years. I also had the great chance to talk football with DH Co-Founder Chad Folkening, despite him balancing work on five different computer screens and his phone blowing up.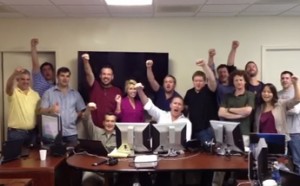 Peter Brooks was hilarious and shared some photos and stories about his old Moniker ties, while Chris talked about his future after the sale of WebCast 1 a few weeks prior. It's difficult to put into words the level of 'chillness' and professionalism exuded by everyone at the DHHQ.
Abdu and I had an amazing seafood Jumbalaya just blocks up the street from DH before making the gorgeous drive down the Florida coastline for the meetup. We got there a few minutes late, found another nice illegal parking spot and headed on in.
Rick Waters, Mike Ward, and Stu Maloff put on a great show and I couldn't be happier that I got to make it down there. Karen Bernstein gave a great speech and announced that she had successfully brokered the sale of Occupy.com.
Victor Pitts made for a great auctioneer, and afterwords enlightened me on the state of the .XXX union. I was impressed to learn that around 40K sites are live on .XXX, which is promising a few months after launch.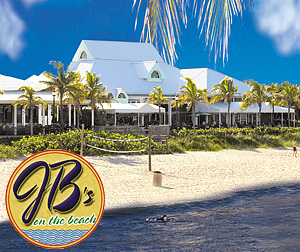 It seemed like everyone there brought something huge to the table. The first two gentlemen I had the privlege of speaking to were Mark Halpern of FrontRow.com and DH COO Jeremy Kayne. They were incredibly cool, and helped to break the ice for me in a foreign location.
I had the amazing opportunity to speak to Rick Schwartz for almost 10 minutes, absorbing everything I could. One huge piece of applicable advice I took away from Rick was that "If you're in a hurry, don't rush things," and he tied this point into the old mantra of doing things right the first time; he hit the nail on the head with me.
I talked to Rick about my new future technology website Astounde.com, and he told me that he had just recently registered a name based on an article I had written. It was cool to learn that the great Rick Schwartz was still buying names, and buying names in similar fields that I am.
I never expected to see Mike Berkens there in a million years, and was a little star-struck. Aside from Mike Law of NameTalent.com, Berkens has the most informative and thorough domaining website out there. He was super laid back, I just wish I would've realized he was an alum of my favorite school (Florida)!
It was really cool to meet some of the younger guys there. Ray Neu and his stories, Jason Greenwald and his awesome .TV portfolio (Pornstar.TV, CreditCard.TV, and Weed.TV), 22 year old Evan Ross and his savvy, and Brett Napoli with his hilarious takes on the industry and veteran insight.
Finally, I was lucky to run into John Vicino and his buddy Lance Zeidman. Their strategy of acquiring future trend domains fit right into my article strategy an Astounde.com of covering interesting future topics that are inevitably hitting the world soon.
After an amazing four hour session, only Abdu and I, along with Rick Waters and Adam Maysonet remained. We walked across the street for a night cap at Flanigan's. Despite the massive pole supporting the entire building in the middle of our table, we had a fantastic time. Rick shared his musical ambitions and Adam discussed his impressive one word domain collection. We had some good laughs and talked about our worst domains, including how I for some reason own MagicLamp.Me.
Abdu and I had flights leaving at 5 AM, so we pulled an all-nighter. Visiting South Florida was honestly one of the best 36 hour periods of my life. I learned an incredible amount from some incredibly smart people. We also didn't get towed which was a bonus. It was an enlightening trip, and I can't wait to go back again soon. Thanks for the memories South Florida!