You may be thinking "What better time to sell Ballot.com than during presidential election year in the U.S.?!" Interesting timing, but I don't necessarily think that it will spark a bidding war resulting in a huge sale.  If buying to develop, is there really enough time left to do something with the name in time for the election this year?  From an investment standpoint – if you pay a premium for it today, will it be worth more or less one year from now?
Don't get me wrong, ballot.com is a great name.. and it's for sale on Flippa.  At the time of this posting there are 9 bids on the name and it's currently at $10,000 with the reserve not yet met.  The name is currently held by Grand Ascent LLC out of Miami, Florida with a contact email @grandascent.com.  Interestingly, GrandAscent.com is a women's online magazine.
Ballot.com was registered sixteen years ago but updated as recently as January of this year. The domain name gets very little traffic (12M rank) and has 38 incoming links according to Alexa.
Domain Name: BALLOT.COM
ICANN Registrar: GODADDY.COM, LLC
Created: 1996-01-20
Expires: 2012-11-23
Updated: 2012-01-14
According to the seller via comments on the Flippa sale page, the reserve will not be mentioned but he assures it's a good deal 🙂 The seller, username GrandWebProperties also mentions in the Flippa sale:
The website may have some remaining Inbound Links, as it was a popular Political Forum a couple years back. These links may aid you in ranking your website in Google, getting traffic and building your business.
While the forum on ballot.com that was established in the fall of 2007 may be the reason for the incoming links, I find it hard to believe that ballot.com was ever really a popular political forum (depending on your idea of website popularity on the web).  According to a screenshot of ballot.com (from screenshots.com) in October of 2008, which was one month before the most historic U.S. election ever, there were only 3700 registered members, 13 of which were online during the screenshot.  I would expect more from a popular political forum just weeks before the presidential election.  Then again, if it was a popular forum it probably would not have shut down and be for sale today.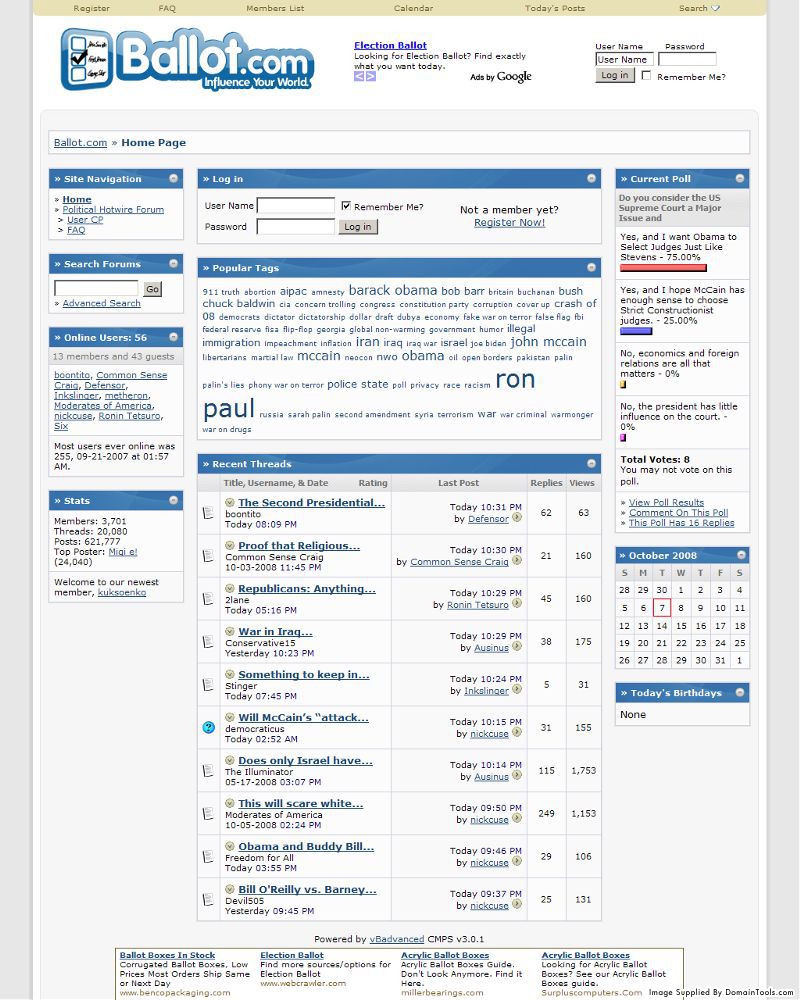 I'm not trying to diminish the value of ballot.com, I think it's a great name worthy of high five to low six figure bids at auction.  This is an example though of how trying to launch a website on a premium one word .com can actually hurt the value.  It looks like the registrant assumed that just because they had a great one word .com that launching a political forum on the name would guarantee an instant success.  Now, unfortunately, that effort is working against them.
The Flippa auction for ballot.com ends next week on May 31st.  I'll go out on a limb and say that the reserve is probably well into the six figure range and won't get met, we'll see a high bid of $65k.
What's your guess?