DomainNameWire broke the news earlier this week that GoDaddy.com, the world's largest domain registrar plans to change the company image.  To begin the change they have hired a new ad agency – Deutsch Inc. Apparently Godaddy wants to move away from the sexy and racy advertising that put it on the map to something that better promotes the services it actually offers. You can expect to start seeing results of the image shift later this summer as Godaddy airs TV ads during the Olympics.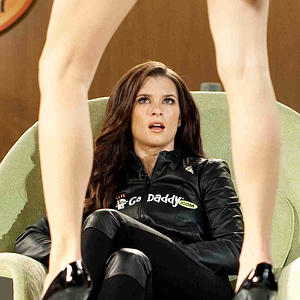 I personally think this is a stupid move by Godaddy and its new partners. Why change what already works and has been working for years? Godaddy's brand is nothing without racy ads and sexy Godaddy girls. To get rid of that you may as well just rename the company to Domain-Square. While we really don't know exactly what kinds of changes are in store, I have to wonder how excited CEO/Founder Bob Parsons is about the change.
I'm not only against the 'image change' because I will be seeing less skin in domain name advertising on TV but it seems Bob Parsons cracked the code on how to bring more awareness to domains in general.  Their strategy has always been the best way to really get their name out there on a large scale. Everybody knows who Godaddy is, but not everyone knows what they do and IMHO that's a good thing because when people finally connect the dots they will naturally choose Godaddy because of the strength of the brand.
Will a Godaddy TV ad campaign that focuses on boring stuff (to the general public) like domain names, web hosting and websites really be effective?  I thought advertising was about bringing in the money not polishing the corporate image, that's what PR is for.  Besides, Godaddy is already pretty highly touted for it's customer support, pricing and web hosting.
What do you think of Godaddy's plan to change its image?