It was a week ago today that DNCruise returned to Miami and dozens of domainers disembarked from the cruise ship after a short week of networking, sessions and fun!
As the Carnival Imagination left port from Miami on Monday October 11th, DNCruise began with a private cocktail party hosted by Chef Patrick.  This was a great way to break the ice and meet domainers we would be spending the rest of the week with.  It was here I met Morgan Linton for the first time, Morgan is a very high energy person and I had a nice talk with him at the opening cocktail party.  During the opening party I also had a chance to meet DNJournal's Ron Jackson, this was great, I've been reading Ron's publication for years and now I was chatting with him for the first time on a Cruise!
The combination of having a couple cocktails, talking and meeting with some domain industry leaders for the first time, being on a moving cruise ship and the anticipation and excitement of the week to come was intense!    During the welcome party I also chatted with Ardean Christiansen, Oscar Correa, Ron Wells,  Sunny Gandem and Del Igs.   This was the first time I was in a room full of people who share the same passion for domain investing, the entire cruise was a really a great networking experience.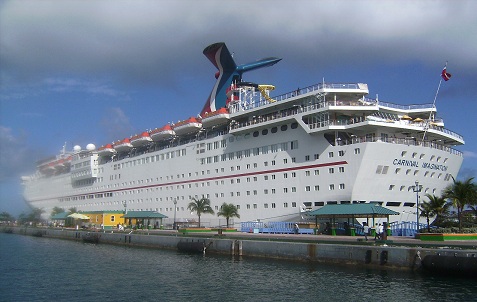 My roommate during the cruise was Brad Waller.  Brad is a mobile app developer and affiliate guru who founded ePage.com, he was invited by Patrick to speak at DNCruise.  Shortly after the opening party we joined back at the Spirit dining room for dinner.  My table assignment the first night was with Sharon and Ron Hester from New York, Susan and Howard Kopp from Florida, Peggy and Harry Ploss from Texas, Brad and myself.  As we dined we talked about domains, business and leisure.  The meals were three to four courses so we had plenty of time to get to know each other when the waiters were not dancing or putting on magic shows.  I became good friends with Howard, Susan, Sharon and Ron as we dined together almost every night.
Following dinner the first night I made my way to the casino.  I saw a few domainers having some fun at the tables throughout the trip and I played some  Texas hold'em.  They had an interesting poker table where you play live poker with other players on a video table.   On day two of DNCruise we woke up docked in Key West, Florida.  The weather looked a bit ominous but that did not stop me from getting off the ship to see Key West for the first time.  I walked all over, starting at Harry Truman's Little White House and made my way to the post office to deliver some postcards then down to historical Duval Street which was great!  The rain held off pretty much until I was back on the ship.
| | |
| --- | --- |
| | |
After a nice morning at Key West the networking sessions were ready to begin. The afternoon started off with a warm welcome by Chef Patrick who became a little emotional from seeing his vision of DNCruise come to fruition. This was followed by introductions of the sponsors and then attendees. Every one who attended DNCruise got up in front of the group and introduced themselves. The introductions took a bit longer than expected so Michael Castello and Ron Jackson did not make it up for the planned question and answer session. Instead, we really got to know each conference attendee, their background, current projects and whatever else they wanted to share.
After dinner the second night, most of us re-grouped for the first game night. The game chosen was Taboo. Our team (team awesome!) got second place. Prizes were given to the first place team who competed for the grand prize, a Microsoft Kindle. Adam Torkildson won the Kindle, Fun times.
| | |
| --- | --- |
| | |
Day three was originally to be spent at our destination in Cozumel, Mexico but thanks to Hurricane Paula we changed course and headed for Nassau, Bahamas instead.  So, day three became our DNCruise sessions day. The first speaker was Craig Snyder, the GM of Moniker/Oversee. He shared great information about .com/.net drop catching and fielded many questions from attendees. The ccTLD's panel followed which was moderated by Morgan Linton and featured Tony Kim from Hexonet.net, Lori Anne Wardi from .CO and Natasa and Sonja representing .ME. The panel gave great insight into ccTLD investing and shared tips on how to geo-target your ccTLD's and what extensions are becoming hot and for what reasons. Attorney, Karen Bernstein was the next panelist and she spoke about legal issues concerning domaining and web development. I got some great tips from listening to her. The next panel saw Michael Ward, Donny Simonton, Gregg McNair and Dan Warner who share talking about where parking is going in 2011. This was a very interesting discussion.
| | |
| --- | --- |
| | |
After a short lunch break we came back to the afternoon session kicked off by Morgan Linton leading a great discussion about domain monetization. Almost all of the attendees I talked to were very impressed with Morgan's public speaking ability and monetization techniques. Next, Rick Waters founder of Webcast1.com led a very informative SEO session.  Brad Waller, was next up and the audience preferred he enlighten us more about his business of building mobile apps. Brad who operates uBuildApp.com answered questions from the field about mobile app convergence and how it affects everyday domainers. Also, we discussed some apps domainers would like to see more of. Something tells me Brad will be busy building apps for domainers long after DNCruise is over.
The final speaker of the day was David Sams, an Emmy winning Executive Producer, Writer and Entrepreneur. During his career he has syndicated shows like Wheel of Fortune, Jeopardy and Oprah! David is a very motivational and informative speaker and shared a wealth of knowledge with us about TV/Internet convergence. David also spoke about gate keepers and the lack of barriers that exist today,  and then he gave us five predictions to think about over the next ten years. My favorite David Sams quote: "If you're parking your most passionate domains, you're parking your dream."
Day four brought us to Nassau, Bahamas.  We woke up to sunshine for the first time on the cruise.  I was determined to see as much of the Bahamas as possible and started out at Cabbage beach (below) then headed in to see the Atlantis Hotel. From there I worked my way back to port but not before walking through Nassau where I stopped at an Internet cafe and also found myself browsing many different local shops.
| | |
| --- | --- |
| | |
| | |
We returned to the ship from Nassau, Bahamas for a last dinner with all of our new friends and domaining family.  The second game night was somehow more intense than even the first one.  Guesstures was the game of choice followed by the winners round of Jenga.  Check out my YouTube page for DNCruise game night videos.  The competition for the MacBook Pro Netbook went late into the night where Brian Gilbert finally prevailed victorious after the most intense round of Jenga I have ever seen!
DNCruise was finally winding down, it had been a huge success. By day four Patrick and Ze were exhausted and jubilant knowing they just pulled off a great history making experience – the first domain conference on a Cruise!
This post cannot possibly sum up all of the great people I met and networked with, friendships that were made or fun that we had during the late night parties! 🙂  DNCruise was my first domain conference and the people working in this industry really made a great impression on me.  Of course, special thanks to Patrick Ruddell for making it all happen and choosing my contest entry as a winner.  I can't wait for DNCruise II there are rumors that it could be next July.. Stay tuned for more details!
For more photos from DNCruise check out Ron Jackson's coverage at DNJournal.com.