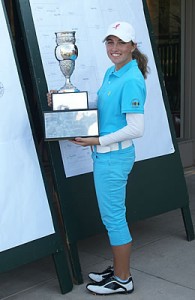 Here's another lesson for domain newbs that think it's a good idea to register domain names of potential athletes or celebrities.  Casie Cathrea, is the California's Women's Amateur Title holder and was the youngest female to ever qualify for a LPGA tour event last year.  Casie Cathrea already has a web page located on Cathrea.com.  However, her family never registered her first+last name .com and when her dad found out CasieCathrea.com was registered to a man named Leonard Meng Lee in California and the domain had golf links on the site he became angry and demanded the Lee hand over the domain.
That's when the Lee offered CasieCathrea.com to the family for a $1000 payment.  Harry Cathrea, Casie's dad decided that instead of paying Lee $1000 that they would threaten to file a lawsuit instead under the  Federal Anticybersquatting Consumer Protection Act.  Mr. Cathrea was not going to pay for the domain and was ready to fight for it.  By threating lawsuit and using pressure from local media, Leonard Meng Lee finally transferred CasieCathrea.com to the Cathrea family free of charge.
The local media's coverage of this story was a bit amusing.  I think Harry Cathrea must have some pull with the Liverpool news station as reporters went to the cybersquatters house to try and speak with Mr. Lee about the domain names and potential lawsuit.  The local news also claimed in their story that Lee had put up a website selling golf equipment on CasieCathrea.com.  What he actually had done is parked the domain using golf keywords, not developed a site to list golf equipment, there's a little difference there.   Anyways, moral of the story… don't register the name of a 14 year old athlete… or any athlete for that matter, save yourself the drama and get into a real money making niche.