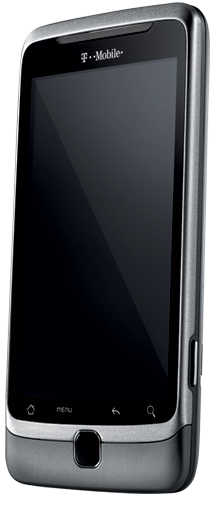 I've recently upgraded to the T-Mobile Android HTC G2.  So, I am going to do somewhat of a product review from a domainers perspective.  I upgraded from the original G1 which I got when it first came out a couple years ago.  The G1 has 3g speed, touchscreen, apps and pretty much all bells and whistles that smartphones boast.  Well, as the customer salesperson said when I was checking out the product in the store "..the G2 is a big upgrade from the G1".
First upgrade to mention is the 4g speed – browsing the Internet, running apps, downloading attachments, watching videos and listening to podcasts just became a lot faster and more feasible to do.  I am really happy with the 4g speed and it does make a noticeable difference.
One of the first things I noticed when I started using this device is that it has lots of pre-loaded apps on it, most of which were Google Apps.  A lot of these apps make web browsing unnecessary and even replace popular apps that I had installed on my previous smartphone.  For example, the "Places" app comes pre-installed on the HTC G2 and will replace the Yelp app I had on the G2 since it's pretty much exactly the same app and just as effective.  Google apps that are already on the G2 include the YouTube, Gmail, Google Earth, Google Goggles, Google Maps, Google Voice, Google Talk, Google Sky Map, Google Listen and Android Market.  Goggles is pretty neat, it's a search tool that starts searching for something you take a picture of.  Earth and Skymap are also both very fun apps to play with when bored or researching!
My favorite pre-installed app so far is the "Listen" app which is a program that lets you search through thousands of podcasts for things to listen too.  Well I was stoked when I found that WebMasterRadio.fm shares it's podcasts on this platform.  That means I now have access to every episode of DomainMasters Radio at my fingertips to listen to whenever I want.  It's been great, I've listened to lots of shows some that date back to when Victor Pitts was the host and even a few when Monte Cahn, the founder of Domain Masters was hosting the show.  Awesome!
Something I noticed which I didn't like is that the browser shortcut that was on the 'desktop' of the G1 was replaced by an app called Web2Go that is supposed to help you get around the web – blah.  I had to search for the web browser icon and add it to my phone's home environment because I still prefer to type in some websites that I want to visit, yea, even on the smartphone. The five pixel camera on the G2 is another nice upgrade, it comes with auto-flash which I am happy to have.
It's no secret that like the iPhone and other web enabled smartphones, the HTC Android is decreasing the need to use domains on your mobile device.  In most cases, you just need to use a voice command to find the site you are looking through via Google search.  Example, if you want to access Dictionary.com what's easier – opening the browser and typing it in or opening the voice search app and saying "Dictionary.com".