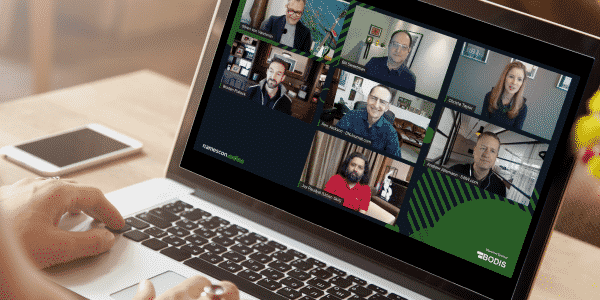 The last few days I attended NamesCon Online 2021. I had not attended the first online NamesCon Online held last September, so this was my first experience with the platform. I had earlier attended an in-person NamesCon, the last one in Las Vegas.
Here are my overall impressions of NamesCon Online 2021, along with some suggestions for improvement. In the coming days I will be following up with more detailed articles about some of the individual sessions.
The Good
For the most part, NamesCon Online 2021 was a great experience, in some ways even better than an in-person domain conference. These are some of the things I particularly liked.
Their platform works superbly. It is easy to interact with others, watch sessions, comment and ask questions.
The platform worked well on both desktop and mobile. I mainly watched on an older Mac, but some of the late sessions listed on my iPad.
The price is reasonable, in my opinion. At just $79 you got a lot of valuable content, and they had an early bird price of $59 that I accessed. For those who had never attended a NamesCon before, it was free.
You can access content for a month. If you missed a session or two, or just want to watch again, almost all content is available until the end of February.
They had most of the biggest names in the business. It was a fantastic opportunity to interact with successful domain professionals and industry leaders.
The vast majority of presenters seemed both well prepared and enthusiastic.
Moderators did a good job of keeping discussions going in a productive way.
I liked the online format. I could readily have two windows open on my computer, taking notes in one, while I watched in the other. In this way I found sessions easier than in an in-person conference.
It was very easy to set up your profile and interact, and from what I see a lot of that was happening.
They had some daily contests with interesting questions.
Some of the panels actually worked better online, in my opinion, and with the ability to flip if something did not interest you, I felt my time was always well spent.
The Lonnie Borck Memorial Award ceremony was superbly done. Hearing his widow speak about the impact of Lonnie still being remembered and recognized was one of the parts of the conference I will never forget. And of course this year's winner, Michael Cyger, represents the very best in our industry, and was the perfect choice. I liked that they highlighted all of the finalists, as many fantastic people were nominated this year.
Some of the presenters were truly incredible. Wondering how to do a good online presentation? Watch Michael Cyger – his two sessions I attended showed how great online sessions can be.
The group of people in charge of the conference were organized, helpful, enthusiastic, and fun. Well done.
Suggestions For Improvement
As positive as my experience with NamesCon Online was, I think there are things that could be improved.
While they had great speakers, I wonder if it was a bit too focussed on those who had presented many times in the past. I would have liked to hear more new voices, personally.
The challenge is always to have a conference that is good for domainers, while at the same time of interest to those who use domains. I think an online conference, with an easy price point for entry, could have reached more end users. See the next point for a suggestion.
To really attract those from outside the domain industry, I think you need at least one speaker who has instant name recognition. People like Elon Musk have spoken about domains, his reacquisition of X.com and the 11 year effort to acquire Tesla.com. A person like that would have instantly exploded interest in the conference.
We need to also reach more of the branding and marketing communities. At least one speaker should be a highly respected branding voice that is not directly involved with domains.
I would like to see a set of annual awards for most innovative use of a domain name in a startup. That would bring some companies into touch with the domain world at an influential stage, and hearing their stories of how they selected their names would be a valuable learning experience for domain investors.
I found the auction disappointing. The fact a number of names did not reach reserve made it less exciting than it could have been. The red carpet series of panels had truly knowledgeable experts, but to me it just seemed wrong to have people talking about pros and cons of names while they were in the last minutes of bidding. The visual display was unreadable, so you needed to go to another window to even read the auction status. I think a clear display of just the few about to end is needed. Also, why not give each name in the auction an opportunity to have a 30 second advertisement for that name in the form of short video? Obviously some screening to make sure that no improper claims were made would be needed.
I had good intentions of interacting with exhibitors, but it did not really happen. With everything else going on, I put it aside until too late the exhibitor section. Why not open the platform an additional day early, and have an exhibitor only day at the start, complete with some chances for prizes and discounts.
I know there was some chatter among registrants that a few felt that company representatives were promoting their services through sessions. Personally, I did not think this was done much, but something to always be wary about.
I personally would have preferred a single map of all sessions and times, rather than the track approach NamesCon Online uses. Within a few hours I did get adept at finding sessions, and moving from one to another, but at first the showing live ones before entering the line where you could find all the tracks confused me.
Canadians have high standards for comedy, and maybe I was just tired, but I was not very enthusiastic about the comedy club. I would have preferred some people actually from the domain community. I know we have some very funny people who could pull it off.
My feelings are the same about the motivational speaker who did the round the world trip. She was interesting, and inspiring, but actually I would be more interested in hearing the life story of someone who is actually in our community but has done something incredible outside domain names.
There were some excellent workshops, but maybe room for more. Possibly an add-on day with a fairly modest additional conference just for building skills.
I was disappointed that many of the companies that are big among domain investors were not represented as exhibitors or even attendees. I think it is somewhat unfortunate that the conference is not independent of any company.
I left some suggestions after I attended NamesCon 2019. One of them was to have either a debate on some topic, or a dramatic production. I think these could work even with the online format.
While there were some aspects that an online format is at a disadvantage, in other ways it is very attractive. While I gave lots of suggestions for improvement above, my overall experience with NamesCon Online 2021 was very positive. I found that my time was well spent, and it was excellent value for money. Why not share your experiences in the comments?