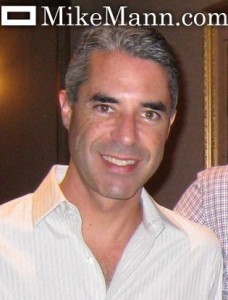 I had an opportunity to chat with Mike Mann on the phone last week and discuss domain investing as well as some of his projects in an interview style which I have published below.  In case you are not already familiar with Mike, he is a serial entrepreneur and domain investor.
One of his companies is DomainMarket.com a domain sales platform and brokerage.  Mann is also the author of Make Millions and Make Change! a book that is a guide for small businesses to learn how to profit while better serving our society.  You have probably seen many of Mike's domain sales on DNJournal over the last few years as his sales consistently make the big board.
Enjoy the interview!
Mike Law: You have a very extensive background with Internet business. In the 1990's you founded Internet Interstate which you sold to Verio 1997. You then founded BuyDomains in 1998 and sold the majority interest to Highland Capital and Summit Partners. Can you tell us more about your involvement with BuyDomains?
Mike Mann: They are doing a great job of selling domains. I'm still a part owner but a silent partner and own a considerable piece of BuyDomains.
Mike Law: So now you have created and are running DomainMarket.com, which is also a domain sales platform.
Mike Mann: Yes. It's in competition with BuyDomains. Basically I'm competing with my own company but my non compete clause of my contract expired a few years ago.
Mike Law: So that made you want to open up DomainMarket.com?
Mike Mann: I wouldn't say I wanted to but I wanted the revenue stream basically.
Mike Law: I am friends with you on Facebook and I see you are posting several sales each week. Just in the last couple of weeks it looks like you have sold over $80,000 in names including Musaic.com for $15,000, PersonalMail.com $40,000.
Mike Mann: I actually had much more sales than that, I am just posting highlights, not every sale.
Mike Law: Are these name sales mainly coming from DomainMarket.com?
Mike Mann: No, actually there's all kinds of people selling my names. The world's top brokers are selling my domains. The best people in the world for this type of stuff work for me at DomainMarket.com or they work at BuyDomains, Sedo, DomainHoldings, Godaddy or DomainAdvisors. Those are all the people selling my names. We hire people in house and we also work with organizations that have a history of selling domains.
Mike Law: Again, you're quite active on Facebook and you have been posting a lot of job availability recently your for start up companies most of which are CEO positions.
Mike Mann: Yes, the companies that I have that are already running have CEOs and Presidents. The only jobs that I promote are the CEO/President jobs for my new companies. There are lots of jobs available at my companies, I don't get involved in hiring for the lower level jobs, I'm just worried about finding quality people for the top jobs.
Mike Law: Right. Can you disclose a little more about the CEO/President positions? Are they equity positions? What kind of salary? Do they require relocation?
Mike Mann: These are Internet executive positions that require very highly skilled people. The pay is salary + stock options. Some of the jobs require living in Utah and some don't. Salt Lake City, Utah is the center of my enterprise. Most of my newer and older businesses are based out of Utah but not all of them.
Mike Law: So companies like SEO.com and Phone.com are based out of Utah?
Mike Mann: Not Phone.com. Phone.com is out of New york with offices in San Diego and is still expanding.
Mike Law: Ok. Are you finding good potential employees using social networks such as Facebook?
Mike Mann: First of all, we own an HR agency (ProHR.com) that does active advertising and recruiting which is our main source of new employees. We are however looking at a lot of people and a lot of resumes because we are very particular and the top job openings we have are very difficult so it's not easy to find the right people for them. We are trying pretty much everything.
Mike Law: Ok. I am going to jump back to domains. The big news this month is the release of .XXX. Do you have any interest in applying for a specific TLD?
Mike Mann: No I definitely would not do that.
Mike Law: I know you have a decent .co portfolio, are there other TLD's you like to invest in?
Mike Mann: Well, I already hold some of the best .co domains, and I think that's enough for me. You know .net and .org are good but .co is the only other one that really matters to me. In those other TLD's (and ccTLD's) I would maybe buy 100 of the very best names but wouldn't bother digging deeper than that.
Mike Law: Great. You also post names on Facebook quite frequently that you are purchasing. Where are you buying names and are you still hand registering.
Mike Mann: I have an automated system that helps me identify what I want essentially. It's the same situation where I try to buy the best stuff and I only buy if they are priced cheap.
Mike Law: A lot of the names you share that you are buying are almost all .coms – mostly two word .coms.
Mike Mann: Yes, if you search those two word .coms in Google you'll see they really are premium so I think the issue is that people don't realize how good they are which is why I am buying them for cheap and holding them for later.
Mike Law: I totally agree, there are a lot of great two word .coms that are out there for decent prices.
Mike Mann: That's the key. Those are .COMs they will stand the test of time whereas other TLD's may put you at perilous risk.
Mike Law: So do you think .COMs will outlast all other TLDs and continue to be "king"?
Mike Mann: Well listen, if you build something on .TV and someone else builds something on the .co.uk and someone builds something on the .net that's just going to make the .com worth ten times more.
Mike Law: Right. Are a lot of your sales of .coms being sold to people who have started building on other extensions?
Mike Mann: Not very often but the issue is that the keywords are in demand around the world. Whether it's the exact owner of of an alt TLD or just someone who is in that market space the point is there is demand for those keywords. As more people buy PPC and SEO and build websites around those keywords as well as buying up the alt or cctlds in those words – they are just making the .com more valuable. Not to mention the type in traffic that goes to .com names.
Mike Law: You also have a PPC company – PurePPC.com
Mike Mann: Yes, we have a fantastic PPC company which is the flipside of the coin of my SEO company (SEO.com).
Mike Law: What is your strategy with your PPC company, are you marketing that towards domainers?
Mike Mann: No, it doesn't have anything to do with domainers really. Again we have a world class SEO company (SEO.com) servicing many top clients such as Dell, 1-800-Contacts, Mrs. Fields, media companies, many Fortune 500 companies.. So, the flipside is pay per click where these clients are buying Adwords through Google. With PurePPC we are offering the entire package – SEO and PPC for those clients.
Mike Law: Ok. The last topic I want to touch on is Grassroots.org. Can you explain in a nutshell how that site works?
Mike Mann: Sure. The object of Grassroots.org is to aggregate valuable services that people normally pay cash for but the idea is that we are going to try to get all those services donated to charity, wrap a nice clean interface around it and provide it for free to select 501c3 charities that meet the right criteria. We already have 5,000 charities that took us up on that offer. So there are more than 5,000 charities that we provide services for free and we are going to sign up 5,000 more charities. Our goal and object is to provide them free services and product that are ordinarily very valuable and expensive saving them time and money and giving them efficient tools to operate. Therefore, if they are an aids charity they can give more benefit to aids patients, if they are a cancer charity they can give more benefit to cancer patients, there's a lot of educational related organizations and all sorts of organizations within our 5,000 charities doing fantastic work and they deserve to save money and have a lower budget. This will allow them to provide more influence in the charitable community. That's essentially what Grassroots.org is doing and we could use a lot of help.
Mike Law: Grassroots.org needs more help so are you in need of more volunteers? resources?
Mike Mann: Again it's an organization with almost no money in it. It's all been money out of my pocket and my business associates pockets. It's an organization that's run on a tight budget so what we need is volunteers, we need money to hire people and we need people to donate services and applications so we can provide them for free to the charities that are our members.
Mike Law: Sure. So for those reading this interview, what kinds of volunteer opportunities are there for someone who may have limited time but still wants to help Grassroots.org grow?
Mike Mann: There is someone who operates this on a daily basis who I would put someone in touch with. We need help managing information and data, writing grants, managing and recruiting other volunteers, building a business management infrastructure,
web development, SEO, basically everything.
Mike Law: I think that Grassroots.org is a great organization, I commend you for creating it and I would like to see Grassroots continue to grow.
Mike Mann: I appreciate that and a lot of people have done a lot of work on it. It's a tough project but we are totally committed and we'll never give up on it.
Mike Law: Awesome. Well, Mike you are up to a lot of great things. I really appreciate you chatting with me today and I look forward to talking more with you in the future.
Mike Mann: Thank you.