Most domain investors acknowledge that it is important to have an operational lander to provide an easy way for a potential buyer to purchase the domain name.
It is good practice to periodically check your portfolio to make sure that each domain name has an operational lander.
Especially when using a lander provided by a marketplace, registrar or service, most assume that as long as the lander is active, so will the ability to purchase the domain name.
This week we discovered that is not always the case.
Afternic Buy Now Landers
Many domain sellers use the Afternic Buy Now landers, especially for domain names priced in the middle of the market range, or lower. The lander is selected by using ns5.afternic.com, ns6.afternic.com nameservers at your registrar.
The purchase of domain names should be easy with these landers. The potential purchaser sees the price, and can click a Buy Now button, which should place the name in a GoDaddy purchase cart. The purchaser makes payment to complete the purchase.
Or at least that is how it should work.
The Problem
On July 8, 2022 NamePros member 411domains alerted the online domain community to a serious problem with the Afternic Buy Now landers.
While the landers themselves display fine, if your names were not fast-transfer enabled, when someone pressed the Buy Now button to make a purchase, they were greeted with the following warning message: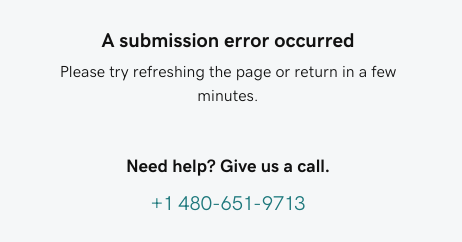 While the purchaser could still buy the domain name by talking to a GoDaddy agent by phone, the key purpose of these landers, allowing instant purchase at a set price, was not operational.
Fast Transfer Activated Domains Not Impacted
The buy now button continued to work fine for names activated on the Afternic Fast Transfer network.
Fast Transfer is available for the main legacy extensions (like .com, .net, .org) and a few others including .co and .de. Your registrar must be on the list of registrars supporting Afternic Fast Transfer, and the domain be out of 60 day lock. You also need to confirm activation in the network.
However, .xyz and all other new domain extensions, and almost all country code extensions, can not be fast transfer activated on Afternic, and therefore were affected by this problem.
The Fix Is In, Or Is It?
GoDaddy/Afternic were notified of the problem by multiple people.
Starting Monday July 11, 2022 the nature of the problem changed, indicating that it was being worked on by GoDaddy technical staff. However the problem was not initially completely fixed.
Whereas previously it had given the error message shown above, now the Buy Now button did take the user to a shopping cart, but unless there was already a name in the shopping cart, the domain name from the Buy Now button did not appear and the cart was empty. So instant purchase was still not possible.
Then later in the day on Monday July 11, 2022, NamePros members began reporting that this second problem appeared fixed. The member who originally reported the problem indicated that he had checked a number of names across a number of extensions, and the problem seemed resolved.
Shortly later, GoDaddy representative Joe Styler reported that he believed the problem was now solved. He also provided a bit of detail on why some users experienced the problem but not all. After indicating that there were two problems, he added the following:

"One was fixed last week and one was fixed today. One of the issues was sporadic so it didn't impact everyone which in part explains why some people saw it and some did not. The other impacted a subset of domains which also explains why some people saw an error and some did not, it depended on which domains you looked up. "
So the problem seems resolved, although a few members continue to report issues with certain extensions, for example .biz. I am not sure if that is a fix propagation time situation, or if there remains some problem affecting a few customers.
The names I personally checked, that had not worked previously, were all now working.
How Long Was This A Problem?
It is not clear exactly how long this had been a problem. The person who reported the problem to the NamePros community detected it in late June during a routine check of his domain name landers.
In the discussion, a different user shared that they had earlier reported the problem, thinking it was unique to their own portfolio names. Afternic support had implemented a fix, but recently the same problem had returned for that user.
It seems likely that there was a serious problem for at least a few weeks from late June 2022 until July 11, 2022.
Some sellers have been anecdotally reporting fewer Afternic sales in June. Most thought that was simply due to the economy, but is it possible the buy now lander problem contributed?
Hopefully GoDaddy has implemented new procedures to check the functionality of the Buy Now button for all, or a representative sampling of, domain names on an ongoing basis to prevent a recurrence of the issue.