Now when you sign into your Dynadot registrar account, just to the left of the Sell Domain button is another button called Ask AI. If your name is already priced, it is to left of the price display.
It is currently configured to give four options
write a description for the domain name, 
tell you about the history of the name, 
suggest some possible buyers, and 
write a poem for the domain name.
You click the arrow icon to see results for any or all of the four possibilities. I gave it a spin with a few of my domain names, and here are my observations.
Domain Descriptions
SquadHelp has added great AI-generated domain name descriptions that I use regularly, so I was interested in how these would compare. One difference I noticed right off the bat is that in Dynadot you are given the choice of Funny Quirky, Enthusiastic Friendly, and Corporate Exclusive. I tried them all, and found even the Enthusiastic Friendly ones on the quirky side, so prefer the Corporate Exclusive.  It still feels enthusiastic and friendly to me.  Below is what it produced for one of my names, trampoline.cc.
Looking for the ultimate domain for your trampoline business? Look no further than trampoline.cc, the domain that will have your customers bouncing with joy!

With its memorable name and catchy .cc extension, trampoline.cc is the perfect choice for businesses that want to stand out from the competition. You won't find a better domain for your trampoline sales, rentals, or manufacturing company.

But don't just take our word for it. Imagine the looks on your potential customers' faces when they see your business card or website featuring the trampoline.cc domain. They'll know that you mean business, that you take fun seriously, and that you're ready to jump into action to meet their needs.

Plus, with trampoline.cc, you won't have to worry about your web address being too long or too complicated. It's short, sweet, and easy to remember – just like your trampolines!

So what are you waiting for? Don't let this opportunity bounce away. Snatch up trampoline.cc today and let the good times roll. Your customers (and your balance sheet) will thank you!
Buyer Ideas
I next checked out what it generated as a response to 'Who can I sell this domain to?' It first responds with some general ideas:
The domain name "trampoline.cc" is associated with fun, athleticism, and entertainment. It can be interpreted as a platform for bouncing, jumping, and performing acrobatic tricks on a trampoline. It is a catchy and memorable name that can attract individuals and businesses involved in the trampoline industry or in the sports, fitness, and leisure sectors. Trampoline.cc can be used for promoting trampoline parks, training centers, equipment manufacturers, or online stores selling trampoline-related products.
The AI tool then suggests specific buyer niches. In the case of trampoline.cc, this list:
1. Trampoline park operators
2. Fitness or sports equipment retailers
3. Sportswear and apparel brands
4. Physical therapy or rehabilitation clinics
5. Gym or fitness center chains
6. National or international sports federations
7. Educational or research institutions studying biomechanics or sports science
8. Event or entertainment organizers
9. Advertising or marketing agencies targeting youth or active audiences
10. Bloggers or influencers in the sports, fitness, or entertainment niches.
I think Ask AI produced a pretty comprehensive list. While many of these potential uses were obvious, I had not considered biomechanics research or sports federations.
Note that Ask AI does not suggest specific buyers, and the quality of the response varies with more challenging names, such as word merges or creative spelling brandable names.
The Domain Name History
One thing that should be checked for most acquisitions is the history of the name.  Dynadot Ask AI does a basic check on first registration, any blacklists, prior use, and UDRP or legal claims in past. Here is what it produced for trampoline.cc. As Ask AI notes at the end, the research should be double checked for accuracy and currency.
Trampoline.cc is a domain name that was first registered on the 5th of July 2005, according to whois records. It is unclear what the initial website or purpose of the domain was, but it has been associated with trampoline-related content throughout its history. The website mainly features information about trampolines, including buying guides, reviews, and safety tips.

There is no record of the domain being sold before, and its ownership history is not available publicly. It is also unclear whether the domain is trademarked, but there are several trademarks registered for the term "trampoline" in various countries.

There is no evidence that the domain has been involved in any UDRP cases or lawsuits, nor has it been listed in any publicly available blacklists.

It is important to note that this response may not be accurate or up-to-date as the information is based on publicly available records at the time of writing.
A Poem
I am not sure how useful it is to have a poem related to your domain name, but the Dynadot Ask AI will happily generate one for you.  I doubt the poetry will win any literary awards, but here is part of the poem it generated for trampoline.cc. I mean who can resist a domain that brightens your day?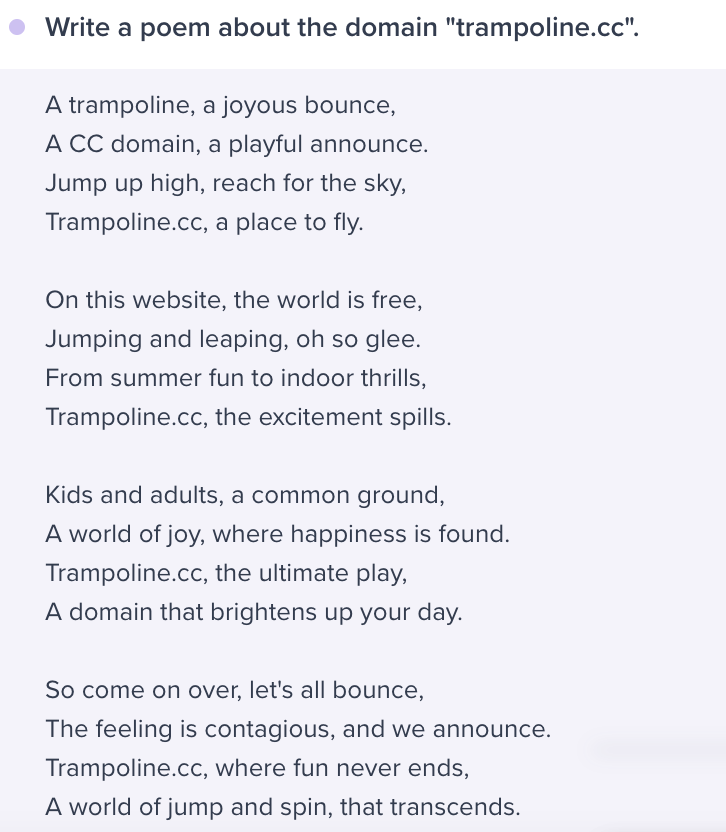 Final Thoughts
While I don't think any of this is industry changing, it does provide a quick look at a domain's history and potential uses, and writes three different sales descriptions. As with any AI-generated content, you will want to check results, and probably do some human tweaking. 
The responses are quickly generated, and can readily be copy and pasted into another document.
While SquadHelp have been introducing AI assisted content in recent months, as far as I know Dynadot is the first registrar to provide these tools.
Dynadot is a popular registrar among domain investors, winning the favourite registrar poll at NamePros each of the last few years. 
Why not go to Dynadot and check out the AI tools for yourself?